ST Racing secured another podium in TC America at the Virginia International Raceway on a weekend when its BMW M4 GT4 also shined in the headlining GT4 America Series.
The weekend got off to a superb start when Nick Wittmer, once again on substitute duties in place of Bryson Lew, set a storming 1m 54.364s in first qualifying, netting the #38 BMW M4 GT4 3rd on the grid for race one. This marks ST Racing's strongest qualifying performance of the year in the GT4 America Series.
With momentum on his side, Nick made an equally impressive start to race one, moving the ST Racing BMW M4 GT4 into 2nd overall with a resolute pass into turn one. The sheer might of the BMW's 3-litre M TwinPower Turbo six-cylinder allowed Nick to keep the leader in his sights down VIR's awesome back straight. Contact shortly afterwards however ultimately meant this pace would not last, though both Nick and teammate Tomas Mejia gamely managed to bring the #38 BMW home 6th in the Silver class.
A truncated second qualifying session meant Tomas Mejia started 23rd overall for race two, but the young Californian, still in his maiden GT4 season with ST Racing, put on a fighting display during his opening stint on Sunday morning, passing 10 cars on-track before bringing the #38 BMW in for the regulatory pit stop. Unfortunately, whilst running 2nd in-class, Nick Wittmer was forced to serve a drive-through penalty. Proving his pace on Saturday was no flash in the pan, Nick dutifully brought the M4 home 11th overall – 12 positions up from its starting position – and 4th in the Silver class.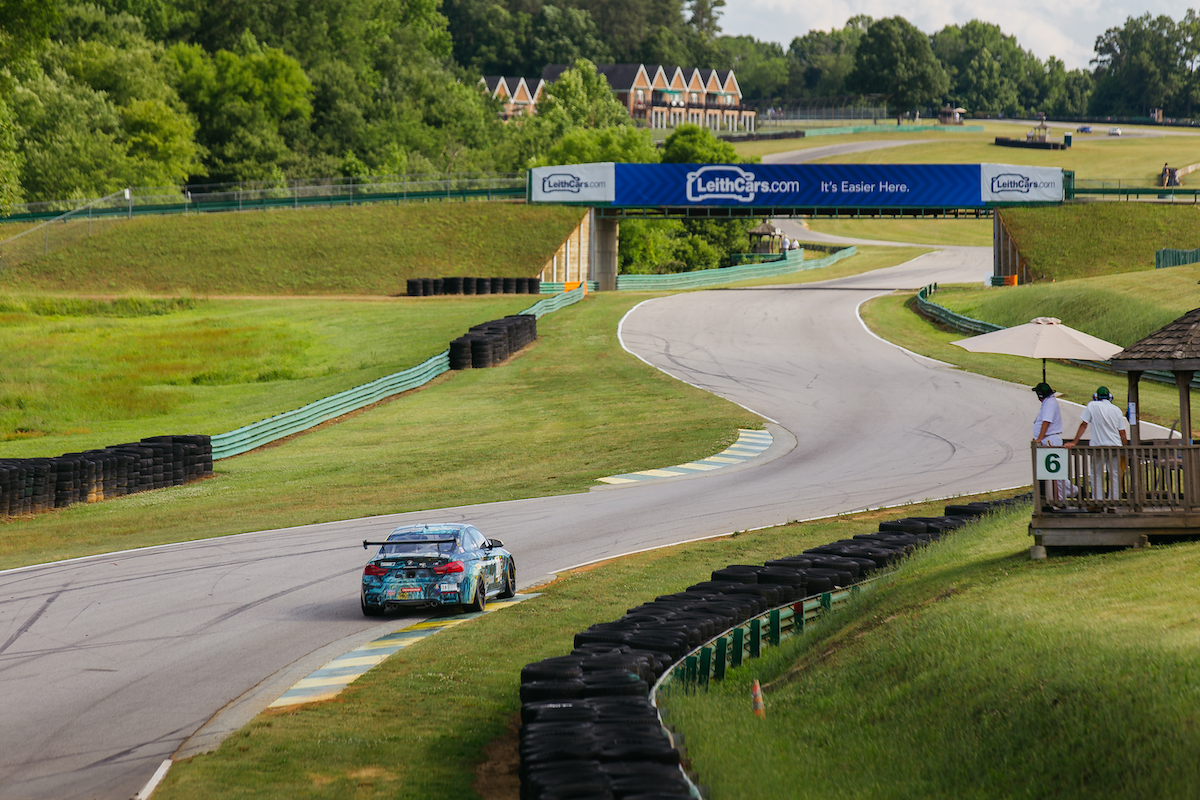 Samantha Tan meanwhile, back for her second TC America race weekend of the season in the sister BMW M2 CS, continued to showcase her ever-developing pace and maturity across both 40-minute races at VIR. Having qualified 5th in the TCX class for race one, Samantha made a bold move down the back-straight on the opening lap to move into 4th. Despite an off-track moment late in the race, 'assisted' as she was by three cars going side-by-side into turn one, Samantha nevertheless managed to secure a solid 5th in-class at the flag. On Sunday, another feisty start meant the #438 M2 was in the thick of the fight for 3rd place from the get-go, Samantha dutifully taking the position when her principal opponents ran wide on lap two. A heavy clash in the race's TCA category meant race two was eventually red-flagged, thus securing Samantha Tan her third podium finish from four TC America starts so far in 2021.   
Kenneth Tan, team principal: "The weekend at VIR was quite eventful, to say the least, and allowed the whole team to demonstrate each and everyone's passion and skills. From our mechanics carrying out a meticulous repair on our damaged #38 BMW in record time with less than two hours before false grid closes, to the drivers executing our strategy skillfully in both races. We especially got the car in top form during the second GT4 SprintX race and were P2 overall after half-time. Unfortunately, I cannot say the same for the officiating, and their lacklustre performance robbed us of our win in the GT4 Silver class and a potential top three finish overall. In the end, after showing video evidence, the officials admitted their mistake but that doesn't do much when the race is over. This also happened at the last race in CotA and these recurring oversights are quite frustrating especially when we spend tens of thousands of dollars to come for a race weekend only to be upended by spotty officiating. I can only hope that the series reviews their procedures and makes a concerted effort to minimize these errors in the near future as they are very costly for the teams while there is no jeopardy for their mistakes."
Samantha Tan, team owner / driver: "This weekend was a bit tough for me! Switching from the M4 GT4 to the M2CS was difficult in terms of braking. My left foot is so used to pushing 90psi in the hard braking zones but there is a brake booster in the M2CS, so it felt like it took next to nothing for me to get to the threshold brake zone. VIR is a momentum track too, so over-braking took a big toll on my lap times. Although I kept improving each session, I wasn't completely satisfied with my performance, despite the amazing car ST Racing prepared for me. I had some amazing battles in race one, including an incredible push for P3 after the restart, but due to a serious crash, the race was red flagged and I finished P5. In race two, I put my head down and continued working on the corners I struggled with. I capitalized on an early incident and put the car in P3 before another red flag came out. I hoped that it would go green again, but am incredibly happy to have podium finish and end the weekend on a high note!"
Tomas Mejia, driver: "VIR really tested the team's abilities. We started the weekend strong with a fast car during practice day and Nick set a blazing lap during qualifying to take P3. However, with old tires in my session against everyone's new set, it was difficult to put down a competitive time. The push for that lap ultimately bumped the car into a tire wall. Although minor damage was sustained, there was little time to make repairs. But the team made a quick decision to fix the car rather than switch entirely, and put on an excellent display of skill to do the work needed in less than two hours. I don't think many other teams could've done that. The first race, however, was over as quickly as it began as our car was hit at the beginning which messed up our alignment. In race two, we started 23rd, and with new tires, the car felt phenomenal and was on rails throughout the whole stint. It was the most fun I've had driving the BMW M4 yet, and I worked my way up to 13th with some passes I'm personally very proud of before handing the car over to Nick. Unfortunately, after a poorly given penalty, we had to serve a drive through. Nonetheless I'm still happy with P4 in-class after a roller coaster of a weekend. I'm happy to be a part of ST Racing. Luck and skill were tested, but we'll learn from this one and we'll be strong at Road America."
Nick Wittmer, driver: "This weekend, we qualified well and in race one we had a very good car and a very good start. I got into 2nd place at turn one, until, on the exit of turn two, I was hit in the left rear which bent the tow in by 10mm. We continued on, doing the best we could until I was hit again – in the right rear this time – which knocked that toe in by 8mm. So our alignment was way off for a track like VIR, but we still managed to bring the car home in a decent position and bank some points. The crew did a fantastic job getting everything fixed quickly and on Sunday we had an amazing car once again. Tomas made a great start, kept the car clean and made a lot of passes, going from 23rd to 13th. Then at the restart, one car ahead of us suddenly slowed down, almost like it had broken down, and that meant three cars, including our #38 BMW, had to take avoiding action. These three cars were wrongly penalized for passing before the start/finish line and had to serve drive-throughs, which was really unfortunate for us. We caught back up to 4th in class, but a yellow flag at the end prevented me from fighting for 2nd in-class, and maybe even the win. The weekend was still a good one for us though, finishing well and bringing home points. But we know we had the pace to run first place in both races. Luck just wasn't on our side this weekend."